Please Feed The Hungry...
For Free!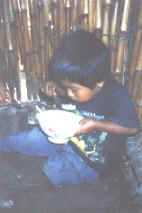 It's so simple!
Over 40,000 people starve to death each day!
THIS WAS BROUGHT TO MY ATTENTION BY LURA...
Lura and her friend

Fw: FEED THE HUNGRY - THROUGH THE INTERNET

Try this every day!
Visit the Hunger Site at the U.N. This is a really cool web site. All you do is click a button and somewhere in the world a hungry person gets a meal to eat at no cost to you. The food is paid for by corporate sponsors.
All you do is go to the site and click. But, you're only allowed one click per day so spread the word to others. Visit the site and pass the word.
CLICK ON THE URL BELOW
TO FEED THE HUNGRY FOR FREE...

OR

http://www.thehungersite.com

Please pass this on to a friend
and visit the hunger site
as often as possible
your click feeds a starving person
it's working!!!
see table below...
Month
Totals
Cups of
Food
Pounds
Oct, 99
Sep, 99
Aug, 99
Jul, 99
Jun, 99
6,341,680
3,742,144
2,258,060
1,959,891
259,109
792,711
467,767
282,259
244,986
32,389
thank you!

here's another site that would
really appreciate your help...
and it's free
you can feed more of the hungry!
and more by clicking on the pic below,
which will feed hungry Argentenians...